Dine at a local restaurant,
or cook for yourself
The MINKA Riverside Villas are just a short walk from a number of sushi restaurants,
izakaya
pubs, cafes and bars.
Another nightlife district with even more to offer is just a 40-minute tram ride away, outside the North Exit of Takaoka Station.
You can also prepare your own meals by purchasing groceries at local supermarkets and specialty stores.
Relax and sit down to a meal you've prepared yourself, in the privacy of your own dining room with a view of the river.
Cooking
Local Food
Why not try your hand at cooking some of our local seafood?
While we don't offer meal service, your kitchen is equipped with all the tools, tableware and cutlery you'll need.
Local supermarkets are stocked with reasonably priced, fresh seafood, delivered daily from the Shinminato fishing port, right at our doorstep. If you're unsure of your fish-cleaning skills, you can ask the supermarket staff to prepare your fish, and they'll even slice it for
sashimi
if you wish.
If you're planning to prepare full-scale meals, we recommend staying at Umineko, which has a spacious kitchen.

Kitchen Tools

KAMOME
Refrigerator/freezer; rice cooker; toaster; microwave; pots (small); frying pans (small); bowls; colander; spatula; ladle; tongs; cooking chopsticks; cutting board; set of dishes and cutlery
UMINEKO
Refrigerator/freezer; rice cooker; toaster; microwave; pots (large/small); frying pans (large/small); bowls; colander; tray; spatula; ladle; tongs; cooking chopsticks; cutting board; cutting board for fish; knives;
"Sakaknife"
(a knife designed specifically for preparing fish); deboning tweezers; set of dishes and cutlery
Fresh Fish
Shinminato is famous for its seafood. Within walking distance you'll find both Kamon Shopping Center and Horita, supermarkets that stock fresh fish, as well as Kataguchiya, which offers prepared foods. Kitto-kito Ichiba, Shinminato's fisherman's wharf and a popular tourist destination, is just minutes away. Along the Uchikawa River, IMATO specializes in the finest high-grade fish (reservations required/inquire in advance). Local fish, caught that very morning, is available at these and other merchants.
Produce and Other Items
Albis, a local supermarket, has a section devoted to local produce, rice, eggs and other ingredients. About 20 minutes away by car are Fresh Satake and Kurosakiya, which specialize in carefully selected, locally produced foods. We recommend these merchants for guests who wish to enjoy Toyama's regional bounty.
Seasonings
At MINKA Riverside Villas, we offer for purchase carefully selected seasonings in convenient smaller sizes, including mineral-rich salt prepared using traditional methods and minimally refined organic sugar.
Offerings may include salt from the Noto Peninsula, additive-free soy sauce brewed in the Hokuriku region, organic olive oil, organic sugar and others.
Note: Availability subject to change without notice.
MINKA Riverside Villas has partnered with a local merchant specializing in high-grade fish. Ask us when you make your reservation, and we can have them prepare the freshest, finest-quality seasonal fish, rich in flavor. Let us know if you have any specific requests, whether for sashimi, dried fish, or even whole fish cleaning. All items are market priced.
Ingredients for Breakfast
We can offer ingredients for a light breakfast for guests who request this service.
We focus on offering organic foods wherever possible.
You will be provided with the necessary ingredients upon check-in.
Cooking tools are available in your villa. The next morning, feel free to enjoy breakfast however you like, at whatever time suits you. Note: Reservations required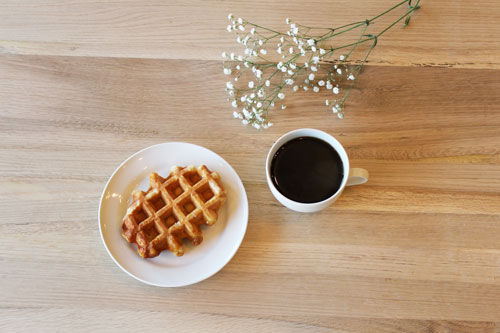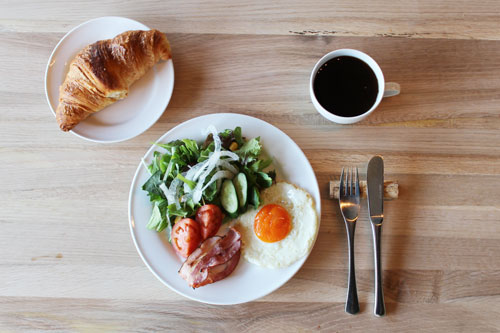 Croissant, egg, bacon, salad, coffee ¥1,620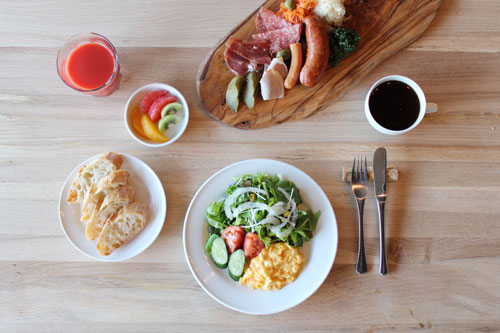 Bread, charcutrie, egg, salad, fruits, blood orange juice, coffee +One-hour late check out(12:00 p.m.) ¥3,240
Note: Prices shown include consumption tax.
Note: We provide the ingredients, but guests are required to cook for themselves.
Full meal service is not available.

The neighborhood features an array of restaurants, cafes and bars, from sushi places offering fresh, local fish, to Japanese fine dining,
izakaya
-style pubs, and even coffee shops and diners located in old, renovated houses. From long-time favorites to the latest spots, these establishments provide a great way to experience local food culture and flavors.
Special Request
We are happy to assist our guests with special anniversaries and other celebrations. Please feel free to contact us; we will do our best to meet your expectations.